December 28, 2016
'The Public World is My Studio': Jeremy Deller's Public Projects

[1]
Written by Holly Arden
In 2009, the English artist Jeremy Deller travelled across the US with the rusted and deformed shell of a car that had been destroyed by a bomb in an Iraqi street. With this wreckage tied on the back of a trailer, Deller stopped at multiple sites along the route to hold conversations with passers-by that were inspired by this unusual cargo—part of a project titled It Is What It Is: Conversations About Iraq.[2] In a very different type of scene three years later, crowds of adults and children ran and jumped onto Deller's to-scale, inflatable replica of Stone Henge, Sacrilege (2012). Swathed in mysterious, ancient history as one of England's venerated heritage icons, the standing stones in Deller's version were instead rushed upon, bounced against, and perhaps most importantly, enjoyed by the public.[3] In a variety of ways over the last decade, Deller's works in public places—which are at times sobering like It Is What It Is and just as often filled with levity and humour like Sacrilege—have explored diverse dialogues with the public as an idea and as an actuality.[4]
In this article, I want to argue that Deller explicitly engages with the notion of 'the public' as a political project. Needless to say, perhaps, the public's singular referent masks the fact that the public is always plural, or that in a sense there are always multiple publics.[5] Deller's work attempts to reinvent or to reimagine the concept of the public in an era when it has been severely threatened, if not altogether decimated. The last three decades have witnessed the near eradication of many facets of the public. This is apparent in the diminishment of the 'public sphere', the multitude of spaces, physical and conceptual, in which public activity takes place. Attacks on the public sphere grew notably in the 1980s with greater moves toward privatisation instigated by conservative Western governments. The neo-liberal economic approach fostered by the Thatcher and Reagan administrations in particular has continued to underscore the policy decisions of successive governments throughout the West (although rhetoric espoused by incoming US President Donald Trump opposes the free trade policies typically supported by neo-liberal regimes in favour of economic protectionism). And yet, I speculate that the notion of the public continues to be viable in the work of certain contemporary artists like Deller.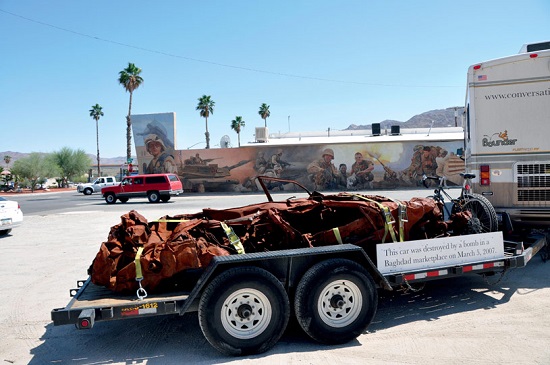 Deller's It Is What It Is: Conversations About Iraq had two components: the first exhibition-based and the second comprising the cross-continental road trip between New York and Los Angeles. Each element of the project featured the rusted shell of the car destroyed in 2007 in a well-known Baghdad market precinct, Al-Mutanabbi Street.[6] Deller's US journey involved three other individuals: Jonathan Harvey, a US Army reservist who had served in Iraq, Esam Pasha, an Iraqi refugee and artist, and Nato Thompson, the project's curator from supporting public art organisation Creative Time. Deller, Pasha, Harvey and Thompson stopped in public spaces in over fourteen locations to talk with the American public. Inevitably, many of their conversations centred on the Iraqi/American conflict, although Deller and his collaborators have pointed out that these discussions ranged widely, from religion to music, family and culture, to the type of tea that Iraqis drink.[7] In some of the project's documentation, Harvey and Pasha front the discussions with the public, recounting their personal experiences of life in Iraq and during the war. In one instance, Pasha speaks with an African American Gulf War veteran named Rodney Blake. Pasha tells Blake that America should have stayed out of Iraq: 'I don't like the army invading my country; they made it worse'.[8] Pasha's statement is provocative, to be sure. However, despite the emotive subject matter, Pasha does not launch into a political diatribe. His conversation with Blake is just that: an exchange of questions and answers and a comparison of experiences. Blake replies: 'So what should we have done?' to which Pasha responds: 'I don't think Iraq posed a threat, so nothing.'[9]
In turn, members of the public recount their experiences of war in Iraq and elsewhere as soldiers and veterans, Iraqi-US citizens, refugees and civilian contractors who served in Iraq. Others have had no direct experience with war yet are still indirectly affected. In New Orleans, Pasha and an individual named Ronald Lewis (Founder of the House of Dance and Feathers, a museum dedicated to the culture of New Orleans marching parades) agree on the basic similarity of human suffering and displacement.[10] Their conversation draws links between the two countries at an unexpectedly individual and personal level, rather than at the broad and impersonal stratum of national politics.
These conversations are only two examples out of many and we can presume that the documentary publication and videos (some of which are available on YouTube and on Deller's own website) are edited versions of the original exchanges. However, if these reflect some sense of the original conversations then these rather generous and open discussions arguably represent the overall feeling of many of the exchanges in It Is What It Is. This comes as a surprise given the morbidly visual nature of the project. The car, rusted and malformed, was paraded on the back of a trailer through both red and blue states but Deller never made the project's politics explicit, although he admits to being terrified of what the public response to the work would be.[11] Describing this unpredictability Deller writes:
It goes without saying that to be in the public realm radically changes a project like this. You tend to lose control of the immediate environment almost instantly; you are at the mercy of the elements and of the general public. This makes the experience more random and unexpected—you literally do not know what, or, more to the point, who you will encounter next.[12]
It Is What It Is maintains a deliberately ambivalent stance on the pros and cons of the Iraq war. Deller himself has claimed that the work is about the war but is not simply an anti-war piece because these arguments were already too late by the time the work was realised in 2009 (the war officially commenced in 2003).[13] Indeed, it could be argued that it is Deller's seeming political ambivalence, rather than any pro- or anti-war statement, that is so provocative—and also risky. It Is What It Is is confronting in its silence about Iraq and about America, especially given the usual bombardment of official narratives of war, frequently from the US government or global media outlets, and anti-war protests that are so often monological and dangerously reductive, even while complex public discussion and debate abounds. Deller's ambivalence is perhaps even more striking because he could be seen as a British interloper, albeit the fact that he is also a citizen of one of the 'coalition of the willing' nations, whose involvement in Iraq mirrored that of the US at every step.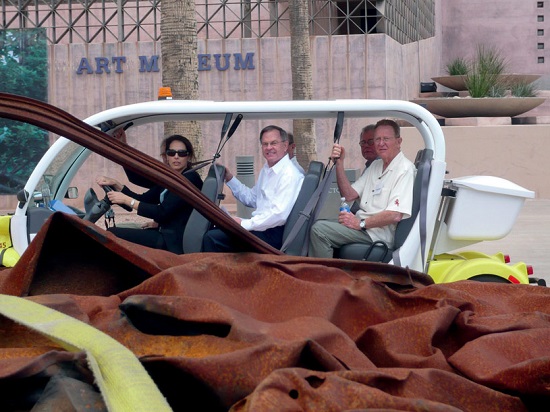 In an insightful comment that addresses this ambivalence, the US Army reservist Jonathan Harvey observes that his input in It Is What It Is was only ever partial, and could only reveal one side to a massively complex story about war:
There is no monolithic monopoly on truth. Everyone's experiences have been separate. For example, my experience was totally confined to north-west Baghdad … it's going to be very different from every other service member who was in Iraq at the same time, very different from the Iraqis and what the truth is, if there is some sort of external truth, is some sort of messy conglomeration of all of these anecdotal experiences.[14]
This 'messy conglomeration of anecdotes' astutely describes Deller's approach to facilitating, collecting and documenting public dialogue in It Is What It Is. What I mean by this is that the work allows the unofficial, anecdotal stories of war to be voiced by individuals for whom the experience of war might be irreconcilably different; together, their stories of war represent the heterogeneous and usually anonymous voices of the public who are not the government officials and journalists who speak and write the vast majority of discourse about the war. In a parallel fashion, and also anecdotally, Deller notes that ordinary Americans are very different to the way that they are often portrayed in the media; in person, he says, they are very 'generous and rational'.[15] According to the project's curator Nato Thompson, it also allowed people to 'talk across racial and ideological boundaries in public'.[16] Based on these comments, we might recall philosopher Jürgen Habermas's well-known idealisation of the modern public sphere as an egalitarian forum for debate, but crucially, without the drive toward consensus that Habermas emphasised.[17]
The importance of the work lies in its veritable silencing of official narratives in favour of a different kind of 'public voice'—not the one frequently publicised via the news media, but a more local and subjective voice. Similar ideas re-emerge in Deller's recent 'war' work, We're Here Because We're Here, which, on July 1 2016, commemorated the centenary of the Battle of the Somme. A collaboration between Deller and National Theatre director Rufus Norris, We're Here organised for some 1,400 volunteers dressed in World War One military uniforms to occupy public spaces around the UK including streets, beaches and shopping centres. Each volunteer represented a fallen British solider in a haunting historical 're-enactment'; each was equipped with a card silently handed out to inquisitive viewers listing the soldier's name, battalion and age at the time of death.[18] The work forefronted 'the people' in whose name the war was supposedly fought, but it did so over and above nationalistic ideological agendas.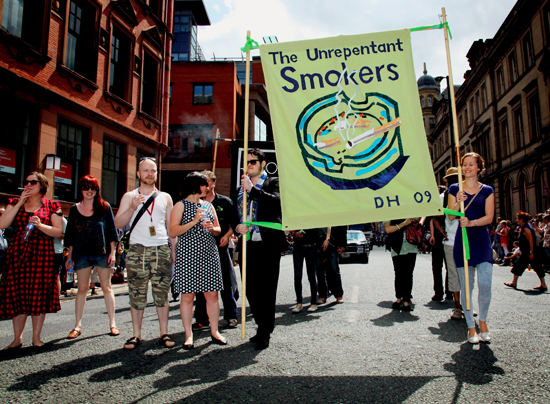 It is crucial to distinguish here between 'the people' and 'the public'. 'The people' in its ideological sense is very often directly associated with the construction of nationhood.[19] This is especially true of the United States (whose constitutional preamble begins 'We the people of the United States…') and particularly apparent in discourse around war.[20] The point is that 'the people' is another discursive construction, frequently used in governmental framings of national identity. Deller's US-based work, It Is What It Is, is avowedly anti-nationalistic. The work forefronts 'the public' in its most open-ended sense: as heterogeneous individuals living within particular locales, and who not only have diverse relationships with nationhood, but also strong identificatory connections with other nations such as Iraq. It Is What It Is facilitates contemporary story-telling about Iraq and America that link both nations' pasts and presents through the individuals who tell these stories; thus the so-called 'Iraq war' is retold as a vernacular narrative of subjective, lived experience.
In another work made during the British summer of 2009, a street parade titled Procession, Deller approached the notion of the public in a related way. Procession involved hundreds of participants, drawn from several boroughs of the northern English city of Manchester, who marched through the main city street of Deansgate in front of crowds of 25,000 people.[21] In contrast to typical parades of the military, commemorative or sporting sort, Procession included a range of unorthodox floats that referenced local, vernacular activities. These included homeless Big Issue magazine sellers, a float representing Manchester's industrial history, a replica of a local 'greasy spoon' café with people drinking tea, a Sikh bagpipe band, Emos and Goths, a group of Unrepentant Smokers and a float designed by a local schoolgirl that pictured Manchester in the year 2050.[22] Assembled in the parade, the floats made a surreal procession of Manchester's local past, present and future —a mixture of sombre realism and humorous fantasy.
Manchester was a centre of the British Industrial Revolution for coal mining, railroads and textile mills. The mines of the north, including Manchester's, were devastated during the Conservative government rule of the early 1980s, when the then Prime Minister Margaret Thatcher sought to close what were in the government's view uneconomic pits and tens of thousands of miners went on strike in protest. Eight years after the 1984 strike, not a single pit remained in the Lancashire area and the trade union movement was significantly weakened.[23] The 1980s also saw the closure of the Salford docks, with over 3000 jobs lost.[24] Procession makes several clear references to this industrial past. One of the floats celebrated 'The Adoration of the Chip, Oldham', referencing the northern borough that allegedly housed the first ever chip shop and was frequented by urban factory workers; in Deller's words, this was 'a new type of citizen created by the industrial revolution'.[25] Other floats included 'The Last of the Industrial Revolution', constructed to look like a mill complete with steaming chimney and carrying former mill workers.[26] Ed Hall, one of Deller's frequent collaborators and a long-time manufacturer of campaign banners for British union and protest movements, made all of Procession's banners.[27]
As a cultural form, parades (or the related form of marches) have a long history with respect to Britain's labour class. Historian Emmanuel Cooper describes the numerous types of parades that marked the burgeoning Industrial Revolution in Britain. The purposes of these were varied but, asserts Cooper, they tended to establish a firm sense of identity for tradespeople and their rights as skilled workers.[28] The amateur, nineteenth-century English artist Robert Greethead provides a sense of this in a highly detailed illustration (c. 1831) of a litany of tradespeople who parade under such banners (carefully subtitled by the artist) as: 'gardiners' [sic], 'shipwrights', 'smiths', 'coach workers', 'coach smiths', 'cork cutters', 'carpenters' and 'pipe makers'.[29]
Deller's interest in industrial history is illustrated in yet another, more recent, exhibition from 2014 titled All That Is Solid Melts Into Air.[30] Co-curated by Deller, the exhibition represents the diverse effects of the Industrial Revolution on everyday lives, both past and present, through photographs, paintings, objects and music (Judas Priest, Black Sabbath, the Happy Mondays, Slade). All That Is Solid recognises the impact of industrialisation on contemporary Britain, in the sense that it is not just history but coterminous with the lives of present day individuals. The exhibition's title is drawn from Marx and Engels' Communist Manifesto from 1848, where they describe the effects of the bourgeoisie's incessant desire for production and change on the lives and selfhood of proletariat man:
All fixed, fast frozen relations, with their train of ancient and venerable prejudices and opinions, are swept away, all new-formed ones become antiquated before they can ossify. All that is solid melts into air, all that is holy is profaned.[31]
The evocative line 'all that is solid melts into air' is also the title of a well known 1982 book by political philosopher Marshall Berman, subtitled The Experience of Modernity, which charts the history and experience of modernity from the sixteenth to the twentieth century. In his introduction, Berman describes the cataclysmic changes brought about by modernity, including a burgeoning sense of the public as a cornerstone of modern existence, beginning with the French Revolution.[32]
I refer to these texts by way of returning to the discussion on Deller's Procession because I am suggesting that the work gestures rather romantically toward the public who emerged with Manchester's industrial history. Procession represents a view of historical, working-class Manchester that is coterminous with the post-industrial contemporary city, as the city's industrial roots 'live on' in its contemporary citizens. Procession draws parallels between the figures of the nineteenth century Mancunian worker or labourer and today's Mancunian public (a more recent temporal overlap is vivid in Deller's renowned performative work The Battle of Orgreave, 2001). Procession is sympathetic, even rather nostalgic, about post-Enlightenment, and especially Marxist, discursive formations of the proletariat as burgeoning members of a dissonant public.[33] It continues a twentieth century project of writing 'history from below', a history of the industrial class that was central to the work of British Marxist historiographer E.P. Thompson and others.[34] In Procession, the vernacular—here presented through local histories, customs and people—is also a link to the past, to a 'pre-history' of Britain, especially prior to Margaret Thatcher's neo-liberal agenda imposed on the nation in the 1980s.[35] Deller taps into vernacular cultural forms as a way of picturing, and even reviving, a notion of the public, past and present, in its 'unofficial' or non-bureaucratic forms. The formal structure of Procession—diverse groups parading together in front of a crowd—also suggests the presence of some 'commons', of some 'community'.
Nevertheless, the specific reason for the procession itself remains unclear, other than a diverse sense of belonging to a place, to Manchester, while the work's title gives little away. Procession's participants parade together, but their togetherness in terms of common values and concerns, their sense of community beyond the fact of where they live, may actually be thin on the ground, especially when Deller throws into the mix such 'anti-social' groups as Emos, Goths and, perhaps worst of all, smokers. In Procession, It Is What It Is, and in other works by Deller, the notion of the public is a necessarily open and unstable formation. Nevertheless, and perhaps paradoxically, Procession overtly references a more specific political and economic subjectivity attached to the notion of the public―the public as a 'working class' or industrial formation―set against an era of contemporary right-wing conservatism, protectionism and extreme wealth inequality. The leaking of the Panama Papers in early 2016 emphasised the economic reality that 'the one per cent' owns the great majority of the world's capital, while the remainder of the world's population, the vast amount of the public, represents the 99 per cent. Deller's evocation of the public also contrasts sharply with this concept's earlier associations, where it indicated a specifically bourgeois modernity. In an important sense, Deller's work conceives of the public as a form of unpredictable and unknowable potential—a politically engaged, potentially antagonistic and vernacular public that is evoked, for example, in the conversations of It Is What It Is and in Procession's public street parade. Indeed, the public conversations in It Is What It Is recall the distinction that philosopher Jacques Rancière makes between noise and speech: the idea that political activity may transform noise into speech for a public whose discourse would otherwise remain as white noise.[36]
Dr Holly Arden was recently awarded her PhD in Art History and Theory at Monash University in Melbourne. She is the Senior Education Manager at the University of Queensland Art Museum in Brisbane.
---
[1] Jeremy Deller, quoted in Stuart Hall, "Jeremy Deller's Political Imaginary," in Joy in People (London: Hayward Publishing, 2012), 82.
[2] GRITtv, "Laura Flanders, Interview with Jeremy Deller, Nato Thompson, Jonathan Harvey and Esam Pasha" (online video), GRITtv, aired March 26, 2009, accessed November 3, 2014, http://blip.tv/grittv/grittv-march-26-2009-1933190.
[3] The bouncing castle toured various locations from Glasgow, Scotland to Sydney, Australia.
[4] A version of this article, titled "'Annoying, Funny and A Bit of A Mess': Jeremy Deller's Public Projects" was presented as a paper at the Art Association of Australia and New Zealand conference 'Image Space Body' in Brisbane, Australia in November 2015.
[5] Michael Warner's book Publics and Counterpublics makes an important distinction between the public (definite article) and a public (indefinite article). See Michael Warner, Publics and Counterpublics (New York: Zone Books, 2005), 65-66.
[6] Deller donated the car to London's Imperial War Museum.
[7] Deller, "Public Art Now Live Event". Also see comments made by Esam Pasha, in Matthew Cunningham, "It Is What It Is: Conversations About Iraq" (online video), accessed October 20, 2015, https://vimeo.com/7207286.
[8] Deller, It Is What It Is, 103.
[9] Ibid.
[10] Ibid., 91-94.
[11] Jeremy Deller, Nato Thompson, Jonathan Harvey and Esam Pasha, "Talk at the Contemporary Art Museum St. Louis, Feb 2013" (online video), Jeremy Deller, accessed December 12, 2014, http://www.jeremydeller.org/ItIsWhatItIs/ItIsWhatItIs_Video.php.
[12] Deller, It Is What It Is, 39.
[13] Deller, "Public Art Now Live Event". Also see Creative Time and New Museum, "Interview with Jeremy Deller" (online video), uploaded February 23, 2009, YouTube, accessed October 19, 2015, https://www.youtube.com/watch?v=3Zf8tDg-l7w.
[14] GRITtv.
[15] Deller, Thompson, Harvey and Pasha, "Talk at the Contemporary Art Museum St. Louis, Feb 2013".
[16] Deller, It Is What It Is, 166.
[17] Jürgen Habermas, The Structural Transformation of the Public Sphere: An Inquiry into a Category of Bourgeois Society, trans., Thomas Burger with the assistance of Frederick Lawrence (Cambridge, MA: The MIT Press, 1989).
[18] Documentation of the event can be found at 14-18-Now, "We're Here Because We're Here," 14-18-Now: WW1 Centenary Art Commissions, accessed 7 August 2016, https://becausewearehere.co.uk/.
[19] Tony Bennett. "Marxist Cultural Politics: In Search of 'the Popular'," Australian Journal of Cultural Studies 1, no. 2 (December 1983): 2-28, Culture & Communication Reading Room, Murdoch University, accessed December 7, 2015, http://wwwmcc.murdoch.edu.au/readingroom/serial/AJCS/1.2/Bennett.html.
[20] Legal Information Institute, "Preamble," Cornell University Law School, acccessed February 24, 2015, https://www.law.cornell.edu/constitution/preamble.
[21] Manchester International Festival, "Procession: Jeremy Deller," Manchester International Festival, accessed March 1, 2015, www.MIF.co.uk/event/procession.
[22] Manchester Evening News, "South Bank art lovers enjoy 'social surrealism' of the greasy spoon café from Bury market," Manchester Evening News, March 13, 2012, accessed 2 March 2015, http://www.manchestereveningnews.co.uk/news/greater-manchester-news/south-bank-art-lovers-enjoy-684232.
[23] Manchester Evening News, "Miners' strike – 25 years on," Manchester Evening News, March 5, 2009, accessed November 3, 2014, http://www.manchestereveningnews.co.uk/news/greater-manchester-news/miners-strike---25-years-912447.
[24] See Alec Herron, "This charming Manchester: is Morrissey's city still recognisable?" The Guardian, February 4, 2015, accessed October 16, 2015 http://www.theguardian.com/cities/2015/feb/04/manchester-morrissey-the-smiths; and Salford City Council, "Salford Quays Milestones: The Story of Salford Quays," Salford City Council, accessed October 16, 2015, http://www.salford.gov.uk/d/milestones_v2.pdf.
[25] Deller, quoted in Lesley Young, ed., Procession (Manchester: Cornerhouse and Manchester International Festival, 2010), 65.
[26] Manchester was the hub of the cotton industry in early nineteenth century Britain. See Museum of Science and Industry, "Cottonopolis," MOSI: Museum of Science and Industry, accessed October 16, 2015, http://www.mosi.org.uk/explore-mosi/explore-revolution-manchester/revolution-manchester-themes/cottonopolis.aspx.
[27] British Council, "Ed Hall – The Collection Banners," March 19, 2013, British Council – Visual Arts, accessed December 7, 2015, http://visualarts.britishcouncil.org/news/all-news/ed-hall-the-collection-banners/page/2. Also see Emine Saner, "Jeremy Deller's Venice all-stars," The Guardian, May 20, 2013, accessed January 30, 2013, http://www.theguardian.com/artanddesign/2013/may/30/jeremy-deller-venice-biennale-allstars, where Hall observes romantically that trade union banners 'have this spiritual nature: the aspirations of the working person'.
[28] Emmanuel Cooper, People's Art: Working Class Art from 1750 to the Present Day (Edinburgh and London: Mainstream Publishing, 1994), 83-84.
[29] Reproduced in Cooper, 83.
[30] Jeremy Deller, James Hutchinson and Lesley Young, All that is solid melts into air (London: Hayward Publishing, 2013). Several of Deller's works referencing similar issues such as manufacturing and worker's rights were included in Okwui Enwezor's exhibition All the World's Futures at the 56th Venice Biennale in 2015.
[31] Karl Marx and Friedrich Engels, Manifesto of the Communist Party (1848), Australian National University, accessed February 24, 2014, http://www.anu.edu.au/polsci/marx/classics/manifesto.html.
[32] Marshall Berman, All That Is Solid Melts into Air: The Experience of Modernity (London and New York: Verso, 1983).
[33] Ibid.
[34] E.P. Thompson, "History from Below," The Times Literary Supplement, April 7, 1966, 279.
[35] Kobena Mercer, ed., Pop Art and Vernacular Cultures, Annotating Art's Histories: Cross-Cultural Perspectives in the Visual Arts (London: Iniva and MIT Press, 2007).
[36] Jacques Rancière, Disagreement: Politics and Philosophy, trans. Julie Rose (Minneapolis: University of Minnesota Press, 1999), 30.