July 1, 2011

Between Utopia and Dystopia
University Museum of Contemporary Art, Mexico City
By Aylin Soyer Tangen

Most Asian countries have been struggling to rewrite their histories since decolonization. History is always written by the winners (...). Missing and concealed stories haunt us like the ghosts of our traditions, and the events of the recent past dwell daily in our minds. The question is how can we deal with that and move towards the future?
– Gridthiya Gaweewong
On the other side of this spinning planet, in Mexico City, Between Utopia and Dystopia is part of an ongoing exhibition cycle entitled Phantoms of Liberty.
This exhibition which opened June 30th at the University Museum of Contemporary Art (MUAC), is curated by Bangkok-based Gridthiya Gaweewong and presents multidisciplinary works by artists whose works mediate between art, life, politics, history and social memory in the contexts of different Asian countries.
The exhibition is also the first chapter of Palaestra, a simultaneous and multiple show of art practices from regions and nations that find themselves in the margins of the contemporary art production of the big metropolises. The issue that unites the exhibitions, whose curators come from Asia, Africa and East Europe respectively, is the question of utopia's condition and status. Through art they deal with the future prospects in each region, and focus on how artists have conceived and responded to utopian visions in their specific geographical and/ or political environment.
Based on their respective localities and historical contexts, the artists explore physical and mental spaces, as well as socio-political issues and historical narratives. As a whole, the exhibition becomes a manifold investigation of the basis of repression in Asian societies. The works of Vietnamese artist Dinh Q Lê, for instance, deals with history from the grassroots and in a both rural and urban context. In the Hyakuri Peace Park Project, Dinh Q Lê works with a Japanese war veteran and farmers who fought with the government for fifty years to reclaim their land.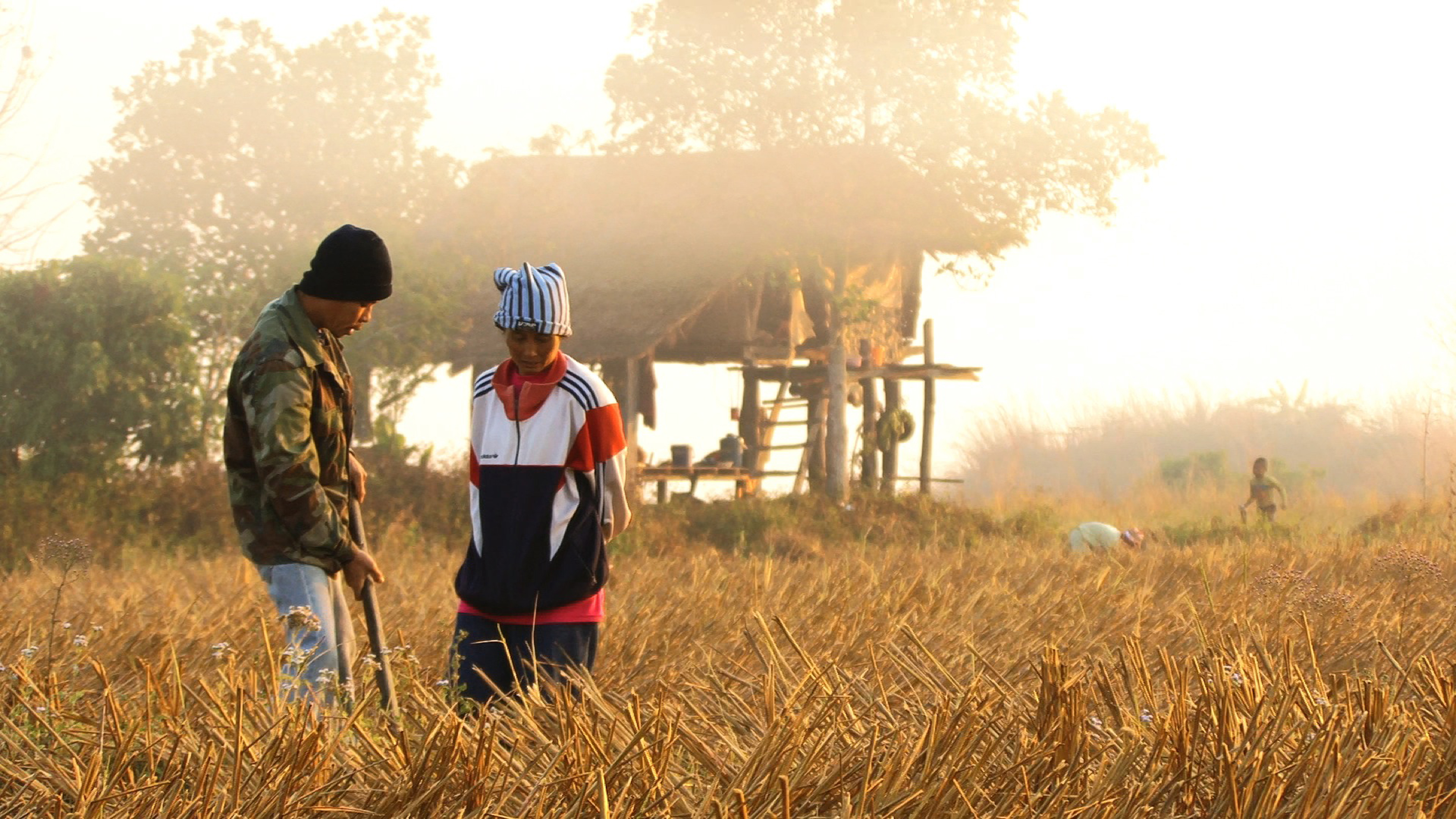 From a similar context, the young Thai filmmaker Uruphong Raksasad's documentary Agrarian Utopia talks about the conditions for dreaming about a utopia among impoverished farmers in Northern Thailand. Apichatpong Weerasethakul's video work Phantoms of Nabua concerns communist farmers in northeast Thailand who were excluded from the country's mainstream social memory in the 1970s. The video installation Massroom Project by Forum Lenteng recounts the collective experiences of young artists and videomakers who ran a workshop and collaborated with a community in Jakarta. The work witnesses the rapid economic growth in one of the biggest urban areas in Southeast Asia, which has resulted in both internal and external migration. Other works address the issue of war and conflict, such as Vandy Rattana's documentary photography where he has followed the remains of the the US bombing campaign by taking photographs of the bomb craters that are widely found in Cambodia.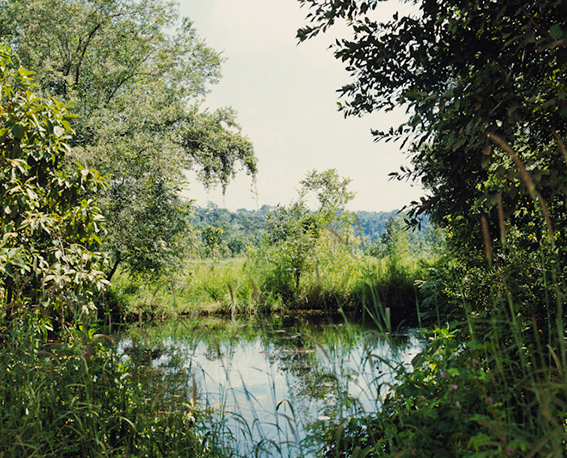 This is how he reports the experience behind the work:
I'm standing with my three cameras- two around my neck and one in my hand. It is 12:30pm and I am at a rubber plantation in Kompong Cham just east of Phnom Penh. The grass and other wild greenery have grown thickly over a pond spanning five meters by five meters. As I stand here contemplating this body of water, the voice of a young farmer suddenly calls out to me as he is preparing his lunch, "It is a bomb pond; it is getting smaller now." I begin to wonder what has happened here in the middle of this beautiful land, surrounded by pure serenity. From primary school to high school and even through university, the history of Cambodia has been put into silent mode for the next generation. Yet a silence created by a mighty sound is still a sound. It is a sound that has been muted... But, still, I do not understand why this sound exists. I do not know why its echo spins in my head and rushes through the veins of my body. Perhaps, I do not really enjoy the bird's song in the early, glorious morning or perhaps I am not humble enough. And maybe I have not yet learned enough about forgiveness and still insist on the value of revenge. I do truly wish I could enjoy the bird's song, to finally end this silent sound reverberating through me.
Another artist, Tsuyoshi Ozawa's Vegetable Weapons is a series of portraits from different countries and regions of women holding guns made of vegetables and other ingredients.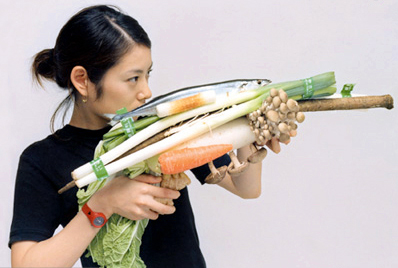 The toy-like guns are made by combining ingredients from local dishes chosen by the local women who serve as the models. After being photographed, the 'vegetable weapons' are dismantled and the ingredients tossed into a cooking pot. The project participants then share and enjoy the meal together. What was the parodying of a war scene turns into a scene of ordinariness and interaction in the form of the sharing of a meal. This project has taken place in various countries around Asia, America, Europe, and Africa.
Rikrit Tiravanija's 100 Years Pictorial history of World Revolution deals with the history of political conflict and peoples' struggle in the last century. He has invited young art students to work on an ongoing mural piece to reimagine political world history. The idea behind this ongoing mural piece, which will be constructed during the exhibition period, is to raise questions about how unresolved political problems lead to uprisings of people in different parts of the world. This exhibition is a continuation of a similar show Who's afraid of Green, Red and Yellow, at the 100 Tonson Gallery, Bangkok, where the artist was cooking and offering his signature creation in the art space, to the viewers and audience. Tiravanija is well known for his orchestrations of interactions between artist, art, and the audience in a combination of art and daily life.
Reconstruction of historical narratives and social memory
To Seismopolite Gridthiya Gaweewong explains that the fundamental idea behind the exhibition is that, when sudden, dramatic changes such as political or ideological uprising or regime change occur in societies, there often arises an immediate need of reexploration and recapitulation of the society's fundament. Because of the possibility to communicate through social media and various alternative networks, this awareness is much more effectively distributed:
Most Asian countries have been struggling to rewrite their histories since decolonization. History is always written by the winners, and of course there will always be histories that remain overlooked and untold. Selective history and social memory are issued and controlled by the state and distributed via mainstream media and institutions. Missing and concealed stories haunt us like the ghosts of our traditions, and the events of the recent past dwell daily in our minds. The question is how can we deal with that and move towards the future?
Art then becomes a tool to unearth the unwritten history of countries and to establish new future trajectories by reconstructing history and social memory. Because of the different geopolitical situation of each country this development happens differently in Southeast Asia, compared to South Asia, where artists have consciously dealt with these problems for a long time in the post colonization era.


---
Between Utopia and Dystopia will stay open until November 2011, and includes the artists Rirkrit Tiravanija, Apichatpong Weerasethakul, Uruphong Raksasad, Dinh Q. Le, Hafiz (Forum Lenteng), Ashmina Ranjit, Tsuyoshi OzawaVandy Rattana, Naeem Mohaiemen, Vandy Rattana and Desire Machine.
University Museum of Contemporary Art